Ok, I'm really going to try my best to put into words my thoughts on this book, because right now, I'm all like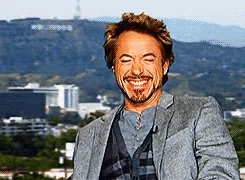 The blurb on the back of the book doesn't really give much away regarding the plot.
She had been innocent once, a little girl playing with feathers on the floor of a devil's liar. She wasn't innocent now...
Intriguing...yes? That combined with the cover = I'm sold. Then, I started reading.
What I liked about the writing style was the introduction to the characters was subtle. It wasn't, "here's Karou, and she's like this because blah blah blah". No, we meet Karou and nothing is explained. We are to just accept that this is the way things are and that is ok. And it was. I liked the puzzle that was created around this world and these characters.
Once upon a time, an angel and a devil fell in love. It did not end well.
Karou is a girl living in Prague and going to art school. On the side, she runs errands collecting teeth for her Chimera family. Teeth? Yes, teeth. For what? Well, we don't find that out until the very end. The Chimera family is made up of Issa, Yasri, Twiga and Brimstone, the latter being the leader of the crew. We don't know much about their way of life, just that Brimstone raised Karou from an infant. Oh, and that Brimstone deals in wishes.
Once upon a time, a little girl was raised by monsters. But angels burned the doorways to their world, and she was all alone.
Akiva is an angel, bred for war. He comes to this world to put a stop to the devil's work. He's angry and he's hell bent on revenge. He's ready to put an end to the war between his kind and the Chimera.
Once upon a time, an angel lay dying in the mist. And a devil knelt over him
and smiled.
Karou and Akiva come together in the wake of chaos and loss. Both drawn to each either, but not knowing the reasons why. How can an angel be drawn to a girl who helps with the devils work? Their journey, both separate and apart, take them across the world searching for answers.
Once upon a time, there were two moons, who were sisters. Nitid was the goddess of tears and life, and the sky was hers. No one worshipped Ellai but secret lovers.
I loved everything about this book. From the visual world Laini Taylor created, to the beautifully rich characters who's lives we're sucked into. Everything was flawless. There were so many little details that one would not really give second thought to, then something happens and you're like, WHOA. The reveal of Karou's true self and her past with Akiva, brilliant! The way the past and present come together leave you wanting more.There were times when I wasn't even sure who's side I was on. And I even cried, I know we're not shocked. But one of the most beautifully written scenes for me was between Brimstone and Madrigal before she's to be executed.
I can only think of one thing to say about this book:
Thank you Laini Taylor and I look forward to the sequel. Which I"m going to go read...like now...